From the Roaster's Corner:
Seasonal: Huehuetenango SBH Todosanterita Microlot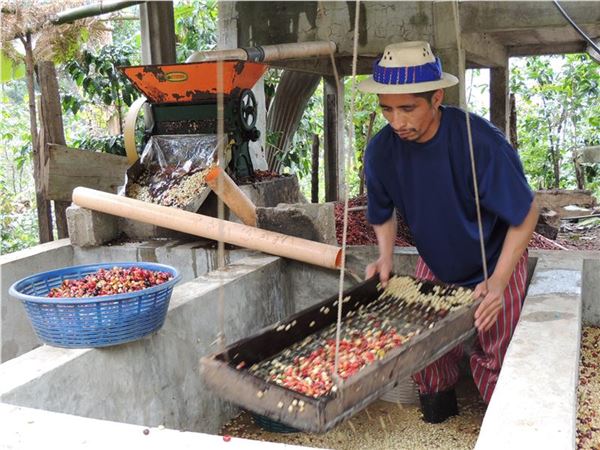 This Arabica microlot has an exceptional, complex profile. Typical to the region, it shows distinct acidity with syrupy body and caramel sweetness.
Huehuetenango is one of Guatemala's three non-volcanic regions, as well as its highest and driest under cultivation, making it one of the best for coffee production.
A mix of hot air from Mexico and cool air descending from the Cuchumatanes mountains, creates a microclimate that's protected from frost and allowing coffee to be cultivated at up to 2,000 meters.
Huehuetenango's extreme remoteness requires that nearly all producers process their own coffee. Fortunately, the region has abundant rivers and streams, making it relatively easy for producers to set up mills. Still more fortunately, Huehue's geographic conditions help to create exceptional coffees with a distinct acidity and fruity flavors.
SHB (Strictly Hard Bean) specifies that the coffee was grown at an altitude above 1,350 meters.
Todosanterita R.L Co-op is located near the touristically town of Todos Santos Cuchumatán. Members of the Co-op are mostly of indigenous descent and speak - in addition to Spanish - the Mayan language of Mam. The Mam from Todos Santos and adjacent areas are some of the few remaining people in Guatemala where also the men still take great pride in wearing their typical dress.
Region: Huehuetenango

Crop year: 2019
Altitude: 1900 - 2300 masl
Process: Washed
Varietal: Typica, Pache, Caturra
Tasting notes: Soft notes upfront of berries and caramel. Apricot acidity with a creamy coating mouthfeel. Soft spice and malt finish.
Roasted for espresso and filter
If you would like your beans to be ground, please state for what coffee maker you require the coffee, and if it is an espresso machine, state the make and model in the comments section at checkout.