Past Events
Sunday, August 25th, 2019 4:00 PM – 6:30 PM AEST
Learn about the basics of espresso in this highly customised workshop

New to the world of espresso? Got a new espresso machine and unsure how to operate it? Or maybe it's time to become more discerning with your Cafe or beans choices?

Then this Espresso Basics Workshop is just for you!

This class is a highly customised, hands-on workshop, with maximum 8 students, each assigned to his own prosumer level machine and grinder, with one trainer for each pair.

You will learn the fundamentals of espresso preparation:
What is espresso?
Orientation to Prosumer espresso machines and grinders
Extraction basics including dosing, tamping and grind adjustments
How to choose the right bean?
Brief introduction to milk texturing
How to keep your machine clean and healthy
Each student will receive a bag with the training manual, beans sample and a discount voucher for any equipment purchase.

You are encouraged to bring your own machine and grinder if you have one.

This event is the fifth in 'Bringing Coffee and Community Together' events series supported by the City of Sydney's Night Diversification Program. Di Bartoli was proudly selected as one of the top 3 local businesses to successfully diversified their events to take place at night time.

NOTE: Tickets will NOT be available at the door. With only 8 spots available, this workshop will sell fast so don't delay, book your seat today!
Innovation and Technology in Prosumer Coffee Equipment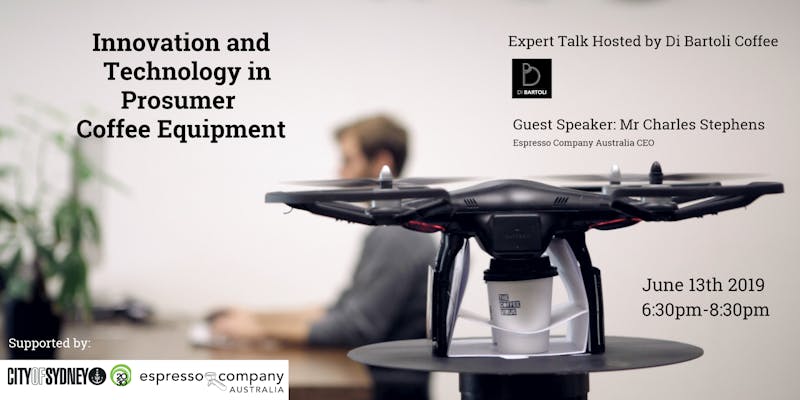 June 13th, 2019 6:30 PM – 8:30 PM
Are you an absolute coffee geek seeking the latest innovative technology in your pursue of the perfect cup? Are you a coffee lover ready to take your coffee to the next level at home but need to make sense of all the tech buzz flying around first? You may be a Coffee Pro looking for new and innovative gear for your Cafe or roastery and curious what's out there..

This event was created for you!

This rare Expert Talk brings you a fun evening of coffee innovation, packed with expert knowledge, behind the scene stories never shared before, coffee technologies demystified, an introduction to several exciting and innovative products and a CHANCE TO WIN NICHE ZERO grinder!
Valentine's Day Couple's 'Coffee 3 Ways'
Feb 14th, 2019 9:30am - 5:30pm
Indulge your Valentine in Specialty coffee deliciousness this Valentine Day!

Book a FREE Couple's 30 minutes Coffee Experience at the Di Bartoli Rosebery Coffee Hub on Valentine's Day, February 14th anythime 9:30am-5:30pm

This is an interactive and fun session for the 2 of you with our Head Barista at the Brew Bar, who will take you through a personal coffee journey exploring the flavours of fresh coffee brewed 3 different ways. This is what you can expect:


Introduction of 'Coffee 3 Ways' and choosing your own

Demo of any Espresso based coffee you choose

Cold Brew Tasting

Hario V60 demonstration and tasting

Take home sample pack of any Single Origin or a Blend
Alternative Brewing: Matching a Maker to a Palate
December 6th, 2018 6:30 PM – 8:30 PM
This is a great and fun event for home coffee lovers and professional Baristas alike!

Whether you plan to buy an alternative brew maker for a friend for Xmas and need to make a smart choice, a freshman starting out in affordable quality coffee @ home, a seasoned traveler looking to upgrade coffee on the go, an espresso lover expanding your bag of tricks to wow your guests or a Barista wishing to expand your knowledge in methods and brewers adding value in your Café…
From Seed to Cup: A Window to the Coffee
November 8th, 2018 6:00 PM – 8:00 PM
Ever wondered where the coffee beans in your hopper come from? Why is it that different types of coffee taste so different even when brewed in the same maker? What are the most common mistakes to avoid next time you buy a bag of beans?
If you know good coffee from bad, if you've developed a discerning coffee taste, if you make coffee at home and feel the need to make better buying choices, if you're ready to explore further the vast world of quality coffee, then this event is for you!